Germano's PIATTINI is serving roasted spring lamb and all the fixings in a special prix fixe and a la carte Easter Menu. The lamb will be roasted on the spit in our outdoor cafe!
EASTER SUNDAY SPECIAL
MISTA SALAD 12
Tomatoes, onions, cucumbers, olives, peperoncini, capers, lettuce, feta
FOCACCIA 7
Fresh herbs, olives, tomatoes, speck
LAMB PIE 10
Phyllo-wrapped ground spring lamb with mushrooms and 3 cheeses
ROASTED HERBED POTATOES 6
EVOO, fresh herbs and Meyer lemons
GRILLED LAMB MEATBALLS 12
Spring lamb, fresh herbs, garlic yogurt
EASTER LAMB 17
Spit-roasted spring lamb with fresh herbs
EASTER PRIX FIXE 35
MISTA SALAD
LAMB MIXED GRILL
Spit-roasted spring lamb, grilled lamb meatballs
SIDES
Focaccia
Roasted vegetables
Roasted herbed potatoes
Join us for a memorable Easter in our upstairs Cabaret, where you will be treated to the glorious music of NY concert pianist, Richard Dowling, performing two shows, brunch and dinner. Bring the whole family and catch a glimpse of Light City before the crowds.
AN ALL-AMERICAN EASTER CELEBRATION! WITH PIANIST RICHARD DOWLING 
$20.00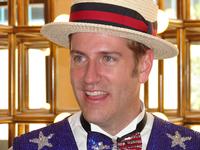 Sunday 3/27
12:00 pm Buy Tickets
6:00 pm Buy Tickets

New York concert pianist Richard Dowling performs a delightful and diverse selection of the best-known, most beloved, romantic, and popular classical and early jazz piano works ever composed. His performance is punctuated by interesting and humorous spoken anecdotes. Mr. Dowling's program will include selections from famous pieces that everyone loves:  Bach's Prelude in C, Beethoven's Für Elise & Moonlight Sonata, Chopin's Fantasy-Impromptu ("I'm Always Chasing Rainbows"), Minute Waltz, and Polonaise in A-flat, Liszt's Liebestraum, Debussy's Clair de lune, Rachmaninoff's 18th Variation from Rhapsody on a Theme of Paganini and Prelude in C-sharp, Addinsell's Warsaw Concerto, an assortment of ragtime works by Scott Joplin, and Gershwin's Rhapsody in Blue…plus perhaps a few surprise encores from Mr. Dowling's enormous arsenal of repertoire. Don't miss this rare opportunity to hear all of your favorite works in one evening performed by this entertaining virtuoso pianist!
"Richard Dowling is an especially impressive fine pianist." – New York Times
"Dowling is a musician with something to say, the skill to say it and magnetic power to make you want to listen. It wasn't just music – it was theater, story-telling of the best sort." – San Antonio Express-Newst
Bottomless Brunch and Mimosas served until 4.  Full PIATTINI menu available in addition to our Easter specials.